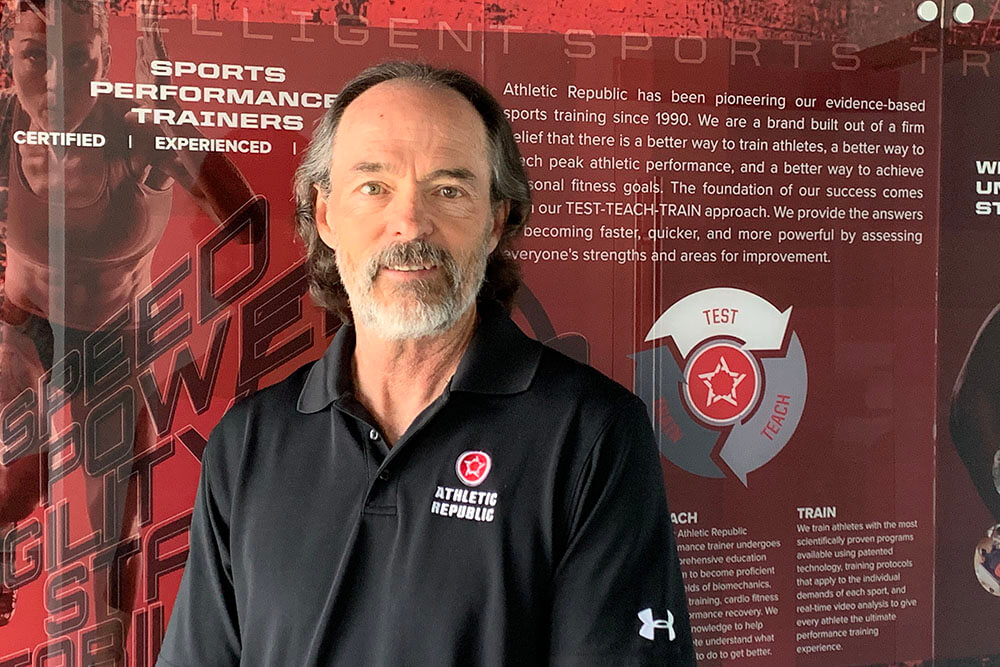 MAY 4, 2020 – Athletic Republic, the leading franchisor of sports performance training centers, today announced that Dr. Jim Walker, a nationally recognized expert in the field of performance training and biomechanics, has joined its corporate team as the Head of Science, Education, and Trainer Development.
"In this role Jim will be expanding our program offering and teaching our trainers across the Athletic Republic network how to apply the principles of sports science to sports training to help every athlete improve their performance. Jim's influence on Athletic Republic's training programs, protocols, and trainer development spans the past 20 years and I'm excited that he will be able to continue contributing his insights and intelligence to our athletes' and trainers' development," stated Athletic Republic CEO Charlie Graves.
Dr. Walker, a native of Montana, was the Sport Science Program director at TOSH-Intermountain Healthcare for 27 years. His professional interest and expertise is in the connection between physiology and movement mechanics and how they relate to performance, and injury risk and prevention.  He has more than 50 peer-reviewed scientific publications and abstracts, and has presented on these topics at numerous local, regional and national professional conferences. He received his BS, MS and PhD degrees in Exercise and Sport Science with emphases in Exercise Physiology, Biomechanics, Training Theory, and Sport Nutrition from Montana State University, Arizona State University, and the University of Utah respectively.  He competed as a distance runner collegiately and post-collegiately, and he was a US Junior National Champion and US Olympic Trials qualifier. He has advised and coached athletes in multiple sports over the years, most notably some of America's best distance runners, at the high school, collegiate, and Olympic levels and most recently was a nationally ranked USA Track and Field Masters runner at 1500 meters, the mile, and 5000 meters before he hung up his racing shoes.
Comments Walker, "I'm excited for the opportunity to continue my professional career with the first and only sports training franchisor based on performance best practices, fundamental movement mechanics, and injury risk reduction. I began my affiliation with AR more than 20 years ago because the program utilizes the scientific literature and sound principles of sports training theory and methodology. These characteristics are extremely important to me with my background as a competitor, coach and sport scientist."